I wrote this in an embarrassing place. It needs a lot of editing, spell check, and everything else, but I'm too horny and rushed to deal with that now. -Pure Fiction as well.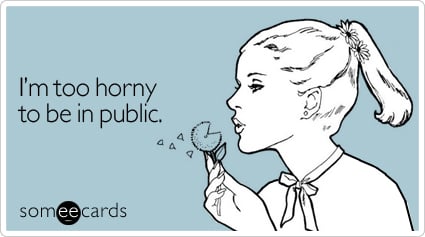 I was thinking about you.. and thought of this.
Me, in the kitchen, wearing only a slightly large t shirt when you get the desire to come up behind me and start playing with me.
First, wrapping your arms around me, pressing yourself against my back, my hands on the kitchen counter standing straight up against you.. you're only wearing a pair of sweatpants. After a few seconds you move your right hand down my stomach, down my right leg, lifting up my shirt before you start lazily playing with my pussy. While your other hand moves up my body under my shirt flicking my nipple for a few seconds before moving back down and grabbing my hip, holding me lightly. Feel my wetness on your fingers, hear me softly moaning, as I rub my bare ass against your cock through your sweatpants.
My head thrown back against you. You let go of my hip long enough to pull your sweatpants down, exposing your rock hard cock. Grabbing my hip again, you start rubbing your cock against my ass before dipping it between my legs to tease me, to rub against my wet pussy lips. Hear me moan "Yess" while you're moving your shaft gently between my pussy lips, coating your cock in my wetness, and making me rub harder against you. Grab my hip tight as you continue to play with my pussy and rub your cock against my pussy lips until i'm about to cum.. when you stop. Hear me whimper as you stop touching me and move your hand covered in my juices up to my lips, letting me get only one lick before you move your fingers away from my mouth, leading me, making me lean over to follow your dripping fingers so I can lick myself off of you.
You wait until I'm bent over before allowing me to lick your fingers clean. Just as I finish licking you take the hard cock you were still rubbing against my engorged pussy lips and thrust it inside me, hard. I scream while your fingers are still gently in my mouth. You feel my whole body tense as you quickly take your fingers out of my mouth to grab my other hip and move your other hand up to grab a fistful of my hair. You tilt my head, back arched, whimpering still and moaning. Slide your hard cock slowly out of me until just the head is still in me before slamming your cock back into my pussy nice and hard. Continue doing that, slowly pounding me while firmly grabbing my hip and a fistful of my hair to keep me in place. Feel my body shaking against yours, trying to get you to fuck me faster. Hear me moaning and screaming loudly with each thrust of your cock. You say, "Tell me how you want me to fuck you", just as you ram yourself inside of me making me scream, "HARD AND FAST".
Continue to slowly pound me while whispering in my ear, "Not until you beg for it". Squirming and desperate for you to fuck me how I need, I moan and scream, "PLEASE BABY, PLEASE MIKE, I NEED YOU TO FUCK ME, FUCK ME HARD, PLEASE FUCK ME FAST" over and over again. After a few seconds of listening to me whimper and moan you taunt, "I knew my little slut needed it hard and fast". Just as you whisper this to me, you let go of my hair to grab both of my hips tight as you pound into me as hard as you can. Start fucking me faster and faster as i scream and moan for more. Feel my body quiver as you make me cum hard all over your cock as I lose control of my body. Ram your cock in me once more after I'm done cumming before grabbing my hair and my hip and turning me around, pressing me up against the kitchen counter until I'm sitting on it. Kiss me fiercely as you rub your already wet cock against my dripping wet pussy, covering it further in my cum. Before using the grip you have on my hair to force me off the counter, down to my knees. When you start rubbing your cum covered cock all over my face until I beg to suck you. You grunt, "Play with yourself like the little slut you are" before shoving your cock hard down my throat. Feel me moan around your hard cock, looking up at you, my face covered in my own cum. You start fucking my face nice and hard, making me play with myself faster, making me moan more around you. Just before you cum you tell me, "Make sure you swallow it all bitch", and watch my eyes widen as you thrust your cock deep down my throat and start cumming. I try to swallow all your cum, but you see two lines of it ooze out around the corners of my mouth around your cock. You make me lick you spotless before hauling me up to my feet, making me leave your cum on my face.
You drag me to the bedroom where you roughly remove my shirt and push me down on the bed. Grab my legs and pull me towards the edge of the bed so my legs are hanging off it and my ass is almost at the edge, my pussy facing your computer. You tell me to lay back and play with my wet pussy, but that I'm not allowed to make myself cum, "That's my job". I lay there, playing with my dripping wet pussy, gently moaning and whimpering as you go start playing on your computer. Looking over at me every once in a while, watching my body move, my hips squirm, and my pussy beg for attention. Every now and then you get up, come over and stand in front of me, watching me play with myself up close for a few seconds, before grabbing my legs and spreading them apart. Rubbing your cock again all over my wet pussy, getting it nice and covered, lazily sliding your cock slowly and gently into me a few times, feeling my pussy squeeze your cock desperately, before pulling out and continuing to rub my pussy with your head. After a few seconds of doing that, you grab my hand that I was using to play with myself at the same time as grabbing my hair again and once again forcing me off the bed, down to my knees.
Still holding my hand covered in my own juices above my head, you stand there sucking and licking my fingers clean, tasting me, while you hold my head and make me suck and lick your cock clean while gently stroking you. When we're both clean you make me get back on the bed and continue playing with myself, without making myself cum. Over the next couple hours you do that to me several more times until I'm to the point where I'm begging for some sort of release, any sort of release and I'm frustrated to the point of tears with the need to cum. When you've decided i've had enough you come over to me lay yourself on top of me, running your hands up my body, grabbing my wrists as you go. Moving my arms above my head on the bed, you cross my wrists and pin my arms down with one hand.
Teasing my pussy with the head of your cock while your other hand and your mouth pinch and suck on my nipple, feeling it harden between your teeth. When I arc my hips up trying to take you inside me you let go of my nipple and use that hand to hold my hips down firmly. All the while I can't stop moaning and begging you to let me cum. My whole body is quivering and squirming under you, trying to rub against you, trying to move in any way that will bring me relief. With my wrists held down you see me strain against your grasp, pushing my tits up as I arc my back. You whisper in my ear, "Will you be a good girl from now on and do what you're told?" just as you slam your cock deep inside my pussy. You thrust into me as I yell yes and start moaning and screaming for you. You start fucking me, hard and fast. You tell me to moan about how good it feels, how bad I want your cock, and how I want you to use me as you're fucking me. As you start pounding my pussy harder with both my wrists still held down, you watch me writhe and struggle against you. You see my tits bouncing as you slam into me, your cum still on my chin. You feel me building up, my pussy squeezing your cock so tight as you thrust into me over and over. My hips pounding back against you. As I scream out, "OH BABY YOU'RE GONNA MAKE ME CUM... PLEASE MIKE, PLEASE CUM INSIDE ME, FILL MY PUSSY WITH YOUR CUM, I NEED IT" you feel my body completely lose control, I start to shudder under you, cumming hard over and over.
As I cum you feel my pussy release all my pent up juices all over your cock and grip your cock so tight that you can't control it. You cum deep inside me, filling me, just as I cum all over your cock. You feel our combined cum dripping out of me all over you, dripping off your balls. Rolling off me so that we can both catch our breath, you release my wrists and I just lay there shaking, moaning, and gasping for air. Before I get too comfortable you grab me by my hair, force me to flip over onto my knees and force my head down to your cock to clean up our mess. As I'm licking and sucking you clean, you watch our cum drip down the insides of my legs. When I'm done, you spank my ass and tell me to go clean up...